This is a large 4ft. x 4ft. oil painting Kip is working on...ya...that's Jean-Michel
Basquiat
in there...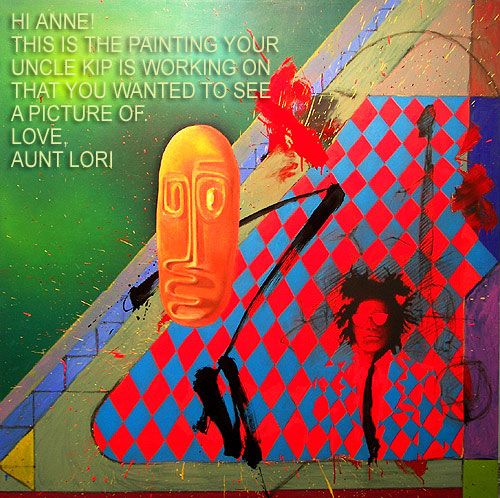 Here's another view.
So how's everyone doing tonight? I am drawing on another
BIG black drawing/painting combo
. I just started it a night ago, so it's not that thrilling yet. I always draw out the base design in white pen then fill it in with other inks, colored pencils and a variety of opaque paints. Underneath this black paper is that other large watercolor I started back in April. Just can't get into painting right now I guess. But I will!!!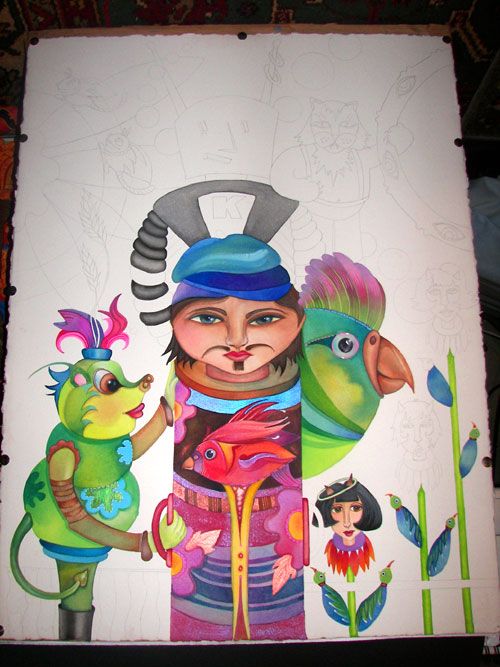 At lunchtime today, I was filling out a lot of medical forms and it got me bummed. It's so depressing to check mark all the crud that's wrong with yourself AND all your families medical history woes etc. One part of the questionaire asked if I suffered from stress or depression etc...I wanted to write,
WELL, I DO NOW!!
Ahh well...I'm over that til' the next poopie medical form has to be filled out. (phew)
A gal I work with saw my website last week, and commented that she liked my "Toy" watercolors. She said that her father is an artist and paints toys also. (He does more than toys)...very Photo Realistic. Take a peek at his website
HERE
Also...check out My Pal Val's (ebay Id palegreenlight) latest little 2.5" x 3.5" acrylic painting!
Green Eyed Kitty
:)
P.S. Thank you for you sweet little handmade card and your thoughtful words Bran. Speaking of
Bran
...She has the BEST place with TONS of artist links called "The Scrumptious Pink Art Blog" it's dedicated to fabulous artists she has found all over the www. So go forth and prosper...
http://www.brandelion.com/blog/
Lo**